One has often heard that airline food tastes like cardboard and chef Velton Saldanha, founder of Mumbai's Chutney Collective, almost made it a legit question when he addressed it on his social media page recently.
"Food, for us Indians, is an integral part of our experience," says Belson Coutinho, co-founder and chief marketing and experience officer at Akasa Air, "The idea was to offer a dining experience on board, one that people hadn't seen and would look forward to in future." Thus was born Cafe Akasa, in August 2022, alongside the launch of the airline.
While a handful of airlines in India are being mindful, Singapore Airlines is one of the few global companies that has been paying attention to their passengers' palate for a while now. It has an International Culinary Panel featuring seven top chefs, including MasterChef Italia's judge Carlo Cracco and celebrity chef and television personality Sanjeev Kapoor.
Considering the innumerable studies suggesting that the higher altitude of approx 30,000 ft combined with cabin pressure changes the way one perceives taste, how do airlines manage to offer a dining experience that is on par with restaurants?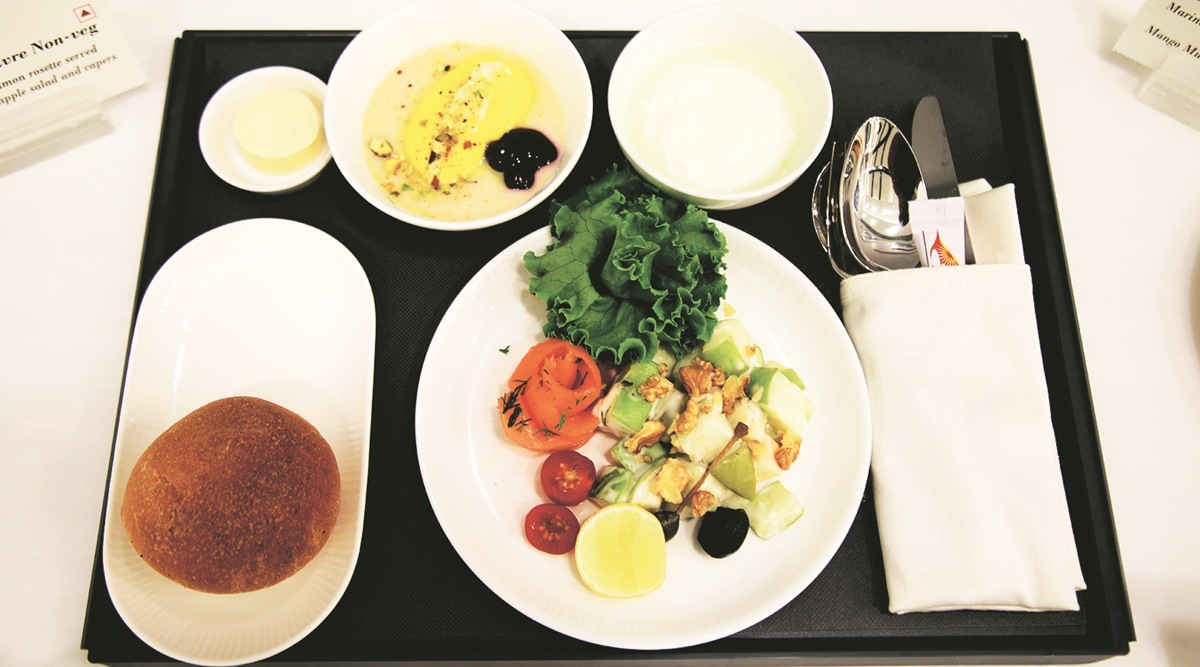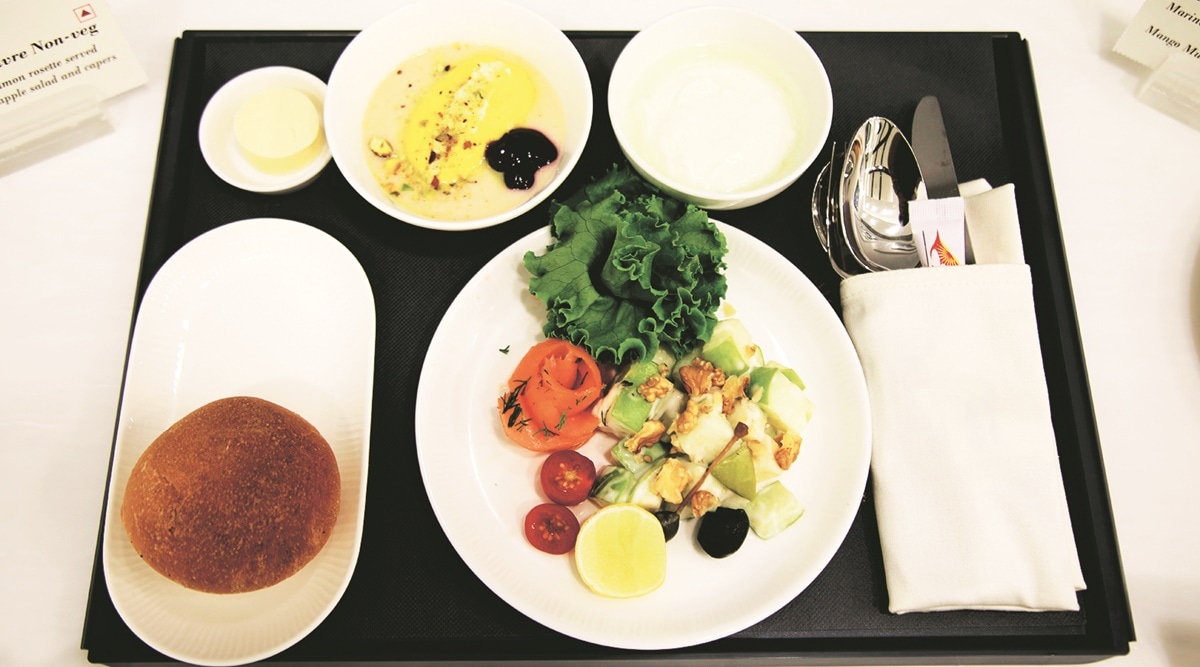 A comfort meal by TajSATS
Coutinho mentions that they are careful about the ingredients they use. Rajendra Nayal, executive chef, TajSATS Air Catering Limited, adds, "Adequate seasoning needs to be done. The food gets reheated on board so you have to ensure that there is a certain moisture level so that the food doesn't dry out." The biggest challenge, he says, is in designing a snack menu because they are generally on the dryer side. The trick is to pair it with a gravy that has moisture, say, samosa with chutney, rice with gravy, or chole with kulcha. The ideal meal to have on board, declares Nayal, is Indian, because it has adequate spices and moisture.
While some airlines admit adding excess salt, chef Sanjeev Kapoor disagrees strongly saying it would increase the sodium content. "What works well is adding ingredients that have high glutamic acids like tomato or mushroom, both have umami flavours. For non-vegetarian dishes, we use richer stock." Airline catering is a specialised job like catering for a party or cooking for a restaurant, says Kapoor.
The food served on board also reaches guests after 10-12 hours of preparation. "While the taste and the texture of a dish are important, they can't be at the expense of safety," says Nayal, adding that inflight catering is the most process-oriented industry. "The food is cooked at a temperature of 75 degrees Celsius or above and then it is sent for blast chilling — a process that brings the temperature down to below five degrees Celsius. This process keeps out bacteria and microorganisms. Then comes portioning of the food, which is then chilled again. Then they are loaded on to trucks and sent to the airport, at least two hours prior to departure," says Nayal.
But there are foods that are off the menu, too. "We avoid a few items that we know don't do well for in-flight dining. Deep-fried food, for instance, that needs a crunchy texture is tough to replicate," says Antony McNeil, food and beverage director for Singapore Airlines.
The challenge, shares Coutinho, comes while serving salads. "We have to ensure that fruits and greens don't get soggy," he says. The desire to up their game means innovation and R&D. "There is extreme collaboration between us and our catering service," he says. One of their latest offerings, poi with cafreal, took over six to seven trials to get it right. "It is a local Goan bread with a filling of chicken and savoury masala. We did many trials to ensure that the stuffing didn't make the poi softer, which means paying attention to everything including the amount of tomato and onion that should go in it," says Coutinho. The airline conducts meal-tasting sessions across departments. "We have ratings for taste, quality, and portions and based on feedback, we decide," he adds.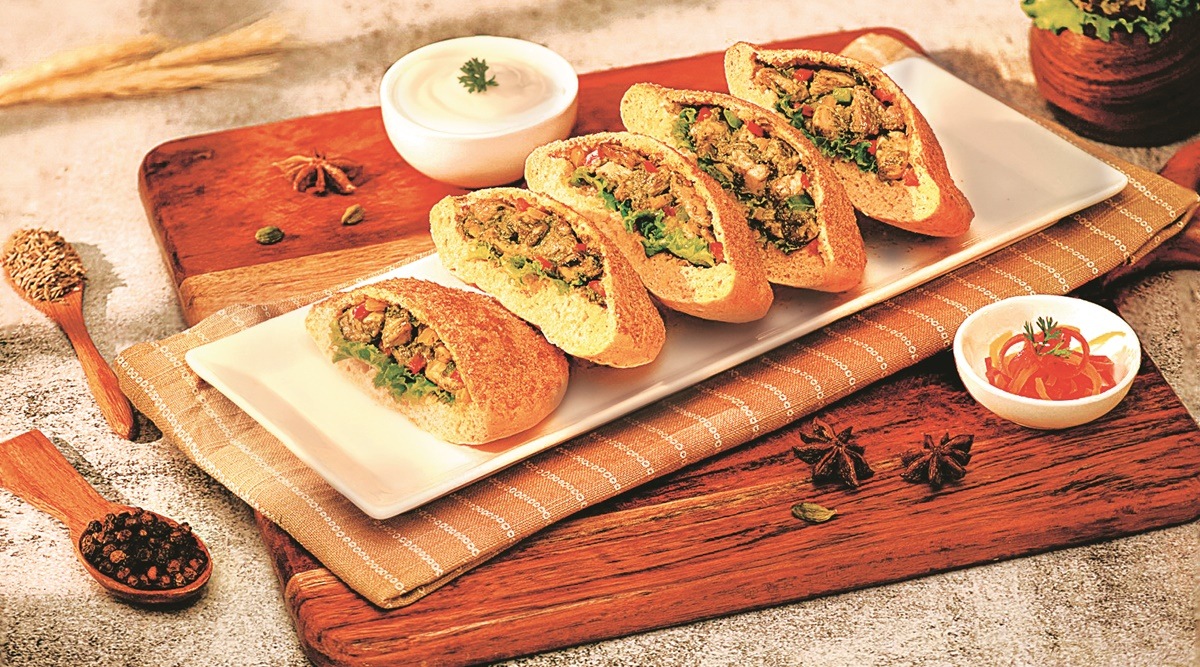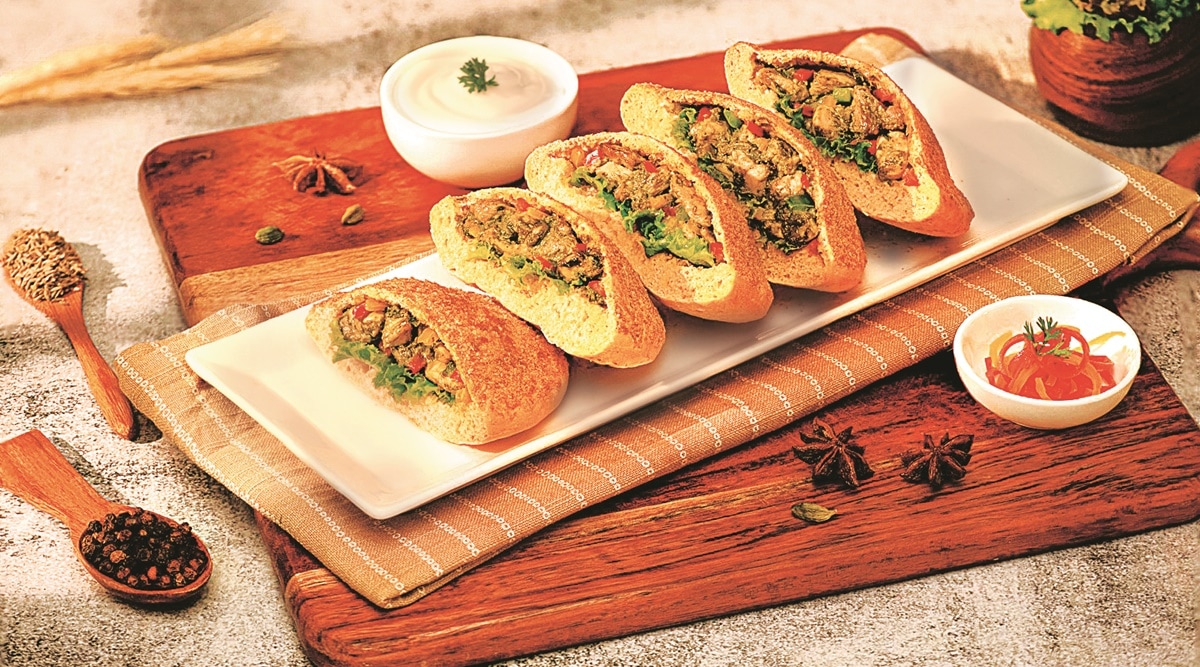 Poi with Cafreal on the menu of Akasa Air
The second leg of inflight catering involves serving the meals. While it is only reheating for the economy section, the business class needs more work. "For full-service carriers such as Vistara and Air India, who have in-built ovens, we send food in oven cages and train the staff on time and temperature for reheating," says Nayal. When it comes to first or business class passengers, the caters do not portion the food. "It is sent in separate containers, the crew does the extra work of plating it after it's reheated," he adds.
However, one can't help wondering why passengers often find the food quality substandard on certain airlines. Chef Kapoor, who pulled up a domestic airline on social media earlier this year, says his issue wasn't with the taste but the quality of the food, which can be controlled. But how is it that two airlines serviced by the same caterers have food that differs from one another? Kapoor gives an example, "One cook might be going and preparing food in four different houses but they won't taste the same. It is about what you provide them with and what you ask from them."